Core library authors.
Hands-on learning.
Summer Amsterdam.
JavaScript is #1 on demand programming language in the world with 25 millions of developers behind it. Meet the ones who shape out the now and the future of the prospering nation. June 3-5, 2020.
3
days
Workshops
+ Conference
1000
personalities
Sharing common
language
The Event
Amsterdam JSNation is going to be the main happening of the JS scene in 2020. The conference unites library authors and core teams with fresh ideas, great people, and a summer Amsterdam in the background. We recognize JavaScript development as an art of engineering, and that's why the conference offers both a JS-driven art exhibition and audiovisual performances during the afterparty. After the event, we'll explore the well-known Amsterdam museums together, and later on, we'll gather for a JS hangout in the Vondelpark.
First authors and core teams that have joined the lineup:
Node.js

Webpack

Vue.js

Three.js
First speakers
Sarah Drasner
Netlify, USA
Head of Developer Experience at Netlify, Vue core team member, and Staff Writer at CSS-Tricks. Sarah is formerly Principal Lead of Emerging Markets, Cloud Advocates at Microsoft and Manager of UX & Engineering at Trulia/Zillow Group. She's the author of SVG Animations from O'Reilly and has given Frontend Masters workshops. Sarah is a co-organizer of ConcatenateConf, a free conference for Nigerian and Kenyan developers.
Matteo Collina
NearForm, Italy
Node.js TSC member, PhD, Technical Director @ NearForm, IoT Expert, Consultant, author of Pino and Fastify. Co-author of the book "Node.js Cookbook, Third Edition" edited by Packt.
TOBIAS KOPPERS
Webpack, Germany
Author of Webpack
Mr.doob
Three.js, Spain
Author of Three.js
Mikeal Rogers
Protocol Labs, USA
Сreator of request and NodeConf. He was a leader in the io.js project and lead the Node.js Foundation through the merger of io.js and Node.js. He now works at Protocol Labs leading the IPLD project.
Oilvia Jack
Hydra, Colombia
Programmer and artist who works frequently with open-source software, cartography, live coding, and experimental interfaces. She is the developer of Hydra, a platform for live-coding visuals inspired by analog video synthesis. She works with the performance laboratory ATI-erra, creating interactive visuals for dance and theater. She has also created software and interactive installations for CultureHub Art & Technology Center, el Museo de Bogotá, and Oakland Museum of California. Originally from San Francisco, she currently lives and works in Bogotá, Colombia.
Tierney Cyren
Microsoft, USA
Member and Chairperson of the Node.js Community Committee, and a contributor to multiple Node.js working groups and initiatives focusing on the continued growth and success of the Node.js community. He`s a Regular Member of the OpenJS Foundation Cross-Project Council, and a TC39 delegate. He`s been contributing to open-source since he was 16
Summertime JS festival with unique audio/visual experience
JSNation conference will gather 1000+ JS pros at Kromhouthal, a former ship engines factory which now becomes the place for gathering the top JavaScript engines authors and engineers.
\
Kromhouthal
Do not miss a thing from us
We all speak the same language which means there is always something to talk about. Subscribe to our social channels to not miss news and goodies.
Newsletter is the most engaging way we communicate. Subscribe to the newspaper of JSNation!
All fun is made
with JS
JavaScript has the potential to change lives and the world we live in. So don't be shy and explore it with us! If you feel like seeing the most beautiful places in Amsterdam, tasting great food and discovering the city's hidden perks together we organize a museum visit a day after the conference then it is a time for JS picnic in the wonderful, central Vondelpark.
And, of course, the conference wouldn't be complete without an afterparty! Amsterdam is known for its wild nightlife and all our attendees get an invitation to join in.
Last year's JS performances
In 2019, we initiated a Call for JavaScript Artists which allowed us to deliver a state-of-the-art afterparty program with audiovisual acts powered by NodeJS, WebGL, WebAudioAPI. Want to know the programme for 2020?
Follow us
Polyop
WebGL, React, Web Audio API, and Web MIDI API, UK
An electronic music and audiovisual group from London, established by producer Jack Driscoll and visual artist Alex Kempton in 2016. The visuals in their show have been created entirely in Javascript using WebGL. Polyop have developed a spectacular audiovisual show set in an alternate universe. The show follows a mysterious demi-god across the polyhedral-plane, inhabited by strange planets, entities and nomad aliens, to the sound of 90's techno breakbeat and acid performed live on hardware synthesisers and drum machines.
AliceEffekt — ORCA
Node.js, Japan
AliceEffekt is formed by Devine Lu Linvega, a true digital nomad and a polymath working on a series of experimental tools and applications. Devine has created a set of live coding tools for rapid iteration and creation of rythms based on Node.js. His latest creation: ORCA is a full blown text based sequencer with impressive cappabilities and distinct aesthetic that engulfs the user in a textual fashion rarely seen in live performance.
JS Open Source Awards
We're looking specifically at open source projects or initiatives, with or without a code, but following an open and transparent culture, open for collaboration and contributions from any person interested.
Github stars are not our criteria, and we're looking for hidden gems (non yet maintstream), that may not have enough marketing power or huge companies behind them. The main goal of the project is to shed some light on great projects, that weren't enough noticed in a competitive environment and hype.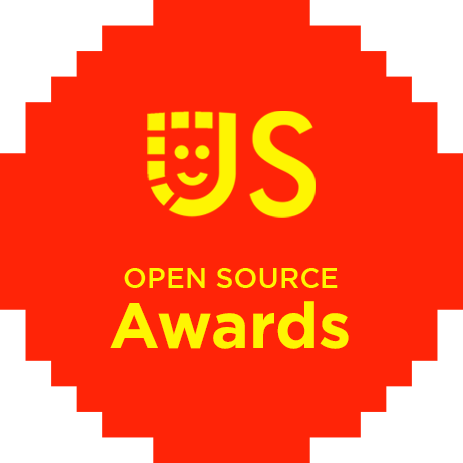 Nominations:
Fun side project of the year
Most impactful contribution
to the community
The most exciting use of technology
Giving back to community
When we established our JS meetup 9 years ago, we never imagined we would welcome up to 1400 attendees at our events and organize 4 meetups and multiple spin-offs in Europe. Our secret? We welcome people from all walks of life in our community, and we are a proud partner of initiatives like Unicorns in Tech, the global tech network for LGBT professionals and straight allies.
We know that supporting diversity inside and outside IT must not end at mere statements, which is why are now developing diversity scholarship programs that will be announced in the coming weeks.
0 of 50 extra diversity scholarships sponsored